Support Autism Cafe Project (ACP) through Running
Event Details
All work and no play makes you a dull person!
CCAM invites you to come and join us in an outdoor activity, our inaugural Virtual Run 2021!
Give back to society while you flex your muscles! " A part of your registration fee will support young adults with autism in building enhanced vocational skills and career success.
The Autism Café Project (ACP) was established in 2016 with a prime objective to secure the future independence of youth with autism, through work placement and mentoring in the hospitality and food & beverage service sectors.
Come and join us in full force!
Timeline

Registration
15 June 2021

(00:00)




until

15 August 2021

(23:59)



Running
01 July 2021

(00:00)




until

31 August 2021

(23:59)



Venue
DIGITAL - Please obey the current Movement Control Order in your area and social distancing rules.
---
Fees
---
Entitlements
Size Chart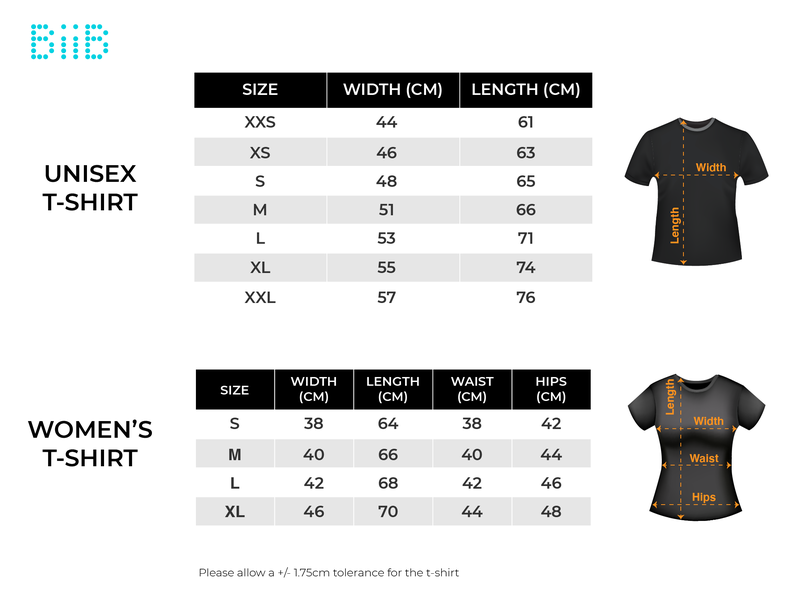 ---
About Autism Cafe Project

Mohd Adli Yahya, 57, who was an executive director of Standard Chartered Foundation ended his corporate career by opening a café to teach youth with autism to be independent and earn an income because he always had one thing at the back of his mind: his son, Luqman.

Luqman's early childhood days saw Adli defending his son's behaviour time and time again. Adli confessed how he always had to apologise for Luqman's repetitive habits, often directed at angry individuals who did not understand nor recognise the symptoms of autism, only to be met with a guilty apology in return. With Luqman as the catalyst, the Autism Café Project was founded as a social enterprise. Currently located at DaMen Mall Subang Jaya , the Autism Cafe Project provides hope to those aged over 17 years with autism or special needs. Adli's vision for the Autism Café Project is that it will act as a safe space for individuals with autism to work in and to welcome the public who wants to understand the condition. While others just hire individuals with special needs, Adli openly encourages interested persons to visit the café and work with the autistic individuals.
To make additional contributions, click the button below:
Visit Autism Care Project Malaysia - Home | Facebook to know more.
---
Rules
R1: Participants are only allowed to submit distance tracked activities. Step Count activity will NOT be accepted.
R2: Participants to ensure that all activities are;
From an active running/walking activity. Tracking your steps/walk over the whole day is not an active activity. (Shopping and tracking is not allowed too).

Synced/submitted into their registered account within 72 hours after the end of each activity and before the end of the event at 23:59 Tuesday 31st August 2021 (GMT +8). Late submissions will not be accepted.

Submitted with the necessary information; Start date and time, duration, distance and route* (*for outdoor activity only).
See full list of Rules in the 'Submission of results' section in the Terms and Conditions.
---
Frequently Asked Questions
Q1 : Can I use a third-party app instead?
A1 : Yes you can. You can link up BiiB with other third-party apps from getbiib.com/me by following these simple steps: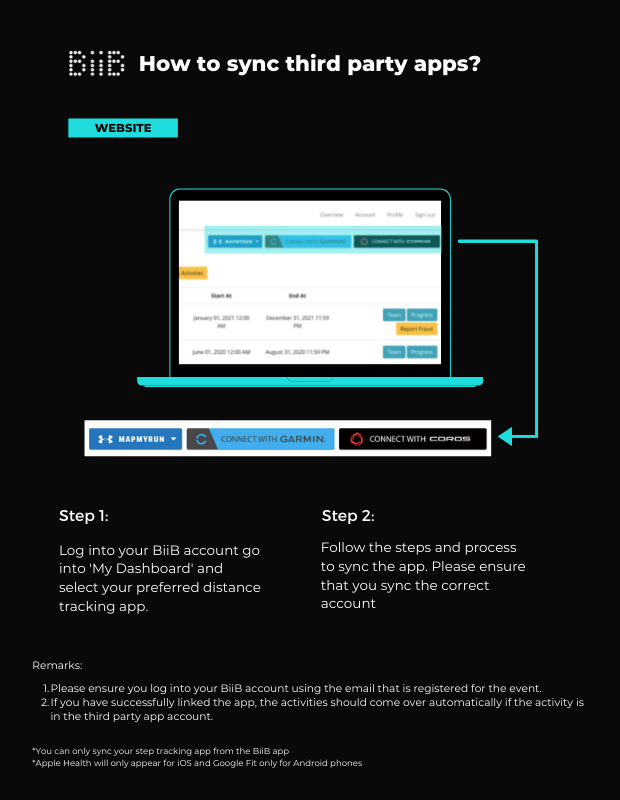 Q2 : How do I make a manual submission?
A2 : You can do it through the website after logging into your account, you can follow these simple steps:
Q3 : When is the last day to submit the result? Do I need to submit the result daily?
A3 : Result submission is required to be done within 72 hours after the end of the activity and before the event ends on Tuesday 31st August 2021 23:59 (GMT +8).
Q4 : Is it limited to outdoor runs only?
A4 : No, indoor treadmill results are also acceptable. You may submit a photo of your treadmill dashboard by manual submission.
Q5 : What does it mean 'System will not take overlapping activity into consideration'?
A5 : The system will not accept two activities for the same time, there can only be one activity for one specific period of time.
Eg: If you submit an activity for 10am till 11am, then your second submission states that the activity is from 10.30am to 11.30am, that is considered overlapping because you are supposed to be running from 10 - 11am and that is already one activity.
Q6 : What are sharing or tag-along activities?
A6 : This is when submitted activities are shared between participants. Eg: You and your friend run together but only one person tracks the activity, only one person can submit the activity for the event. If both participants submit the same activity, both submissions will be rejected by the system.
Q7 : How does the system track the mileage and how often is the system updated?
A7 : The system is built to add up all the mileage logged by the participant right after the success sync (LIVE). The mileage display will update as soon as you have finished a run/walk with successful sync or submission. You can view it either in BiiB+ App, under event (second tab from the left) or via personal running dashboard at getBiiB.com/me.
Q8 : How does syncing third party app work?
A8 : Your activity must be in your third party app account and that system before it will be synced over to us. If the third party app system does not have your activity, we will not receive any information/activity from the third party app system.
Q9 : Who is eligible to participate in this event?
A9 : This event is open to everyone in Malaysia​.
Q10 : When will I receive the entitlements?
A10 : Production and shipping of the event's entitlements will commence from 20 October 2021 onwards (delay may occur due to current COVID-19 restrictions).
Q11 : If I decided not to run, can I get a refund?
A11 : No refund is allowed as stated in the T&C.
Q12 : Will my mileage collected before the participation date count?
A12 : No, your mileage will be collected from the date and time the event begins.
Q13 : What do I do if I enter the wrong information during registration?
A13 : Please email us at [email protected] with the changes you want to make.
Q14 : Why didn't I receive any information from BiiB?
A14 : Please check your email or spam mail folder for our email after a successful registration.
Q15 : How will BiiB communicate with me?
A15 : We will use the details in your registration for communications and rewards. Please ensure the information provided is correct.
---
Contact Us
For any inquiries on event and rewards, please contact Contact Centre Association of Malaysia at [email protected]
For any inquiries and technical issues please contact us at: [email protected].
We will get back to you as soon as possible within 3 working days, our business hours are Monday to Friday, 10am to 5pm (excluding Public Holidays).
---
Terms and Conditions
You can find the terms and conditions of the event and the rewards here: Terms and Conditions