RMC is back as RUNLIGA Malaysia Challenge!
Event Details
BiiB is back for the 4th year in a row bringing you Malaysia's biggest Team Challenge 💪
RMC is now known as RUNLIGA Malaysia Challenge! With the new launch and rebranding of this series in 2021, the mileage shall start with 2021KM as the Bronze mileage.
Together, we have completed 1,336,820.92KM in RMC 2020. Let's beat our own record and challenge ourselves to reach a higher mileage this year 🔥
Get your team together, run the mileage and achieve either the Bronze/Silver/Gold medals!
IT IS ALL ABOUT TEAMWORK!
Timeline

Registration
Now


until

20 August 2021

(23:59)



Challenge
17 August 2021

(00:00)




until

16 September 2021

(23:59)

All results must be submitted before the end of the challenge. No late submission is accepted.

Venue
DIGITAL *Please obey the current movement conditional order in your area and social distancing rules
---

---

Finisher T-shirt
Size Chart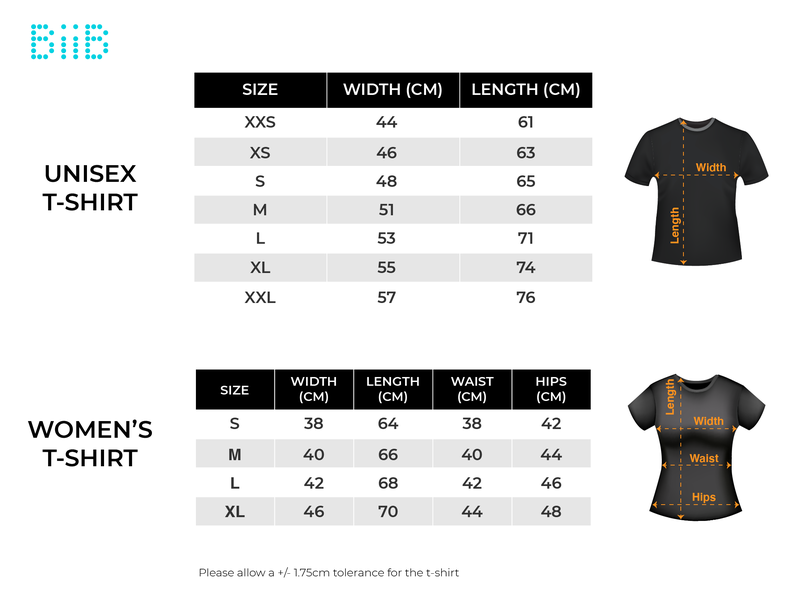 Finisher Medals
---
Rules
R1: Participants are only allowed to submit distance tracked activities. Steps tracked activity and/or app will NOT be accepted.
R2: Participants to ensure that all activities are:
From an active running/walking activity. Tracking your steps/walk over the whole day is not an active activity. (Shopping and tracking is not allowed too)

Synced/submitted into the registered account within 72 hours after the activity has ended and before the event ends (23:59 GMT +8). Late submission is not accepted.

Submitted with the compulsory information; Start date and time, duration, distance and route for outdoor activities.
See full list of Rules in the 'Submission of results' section in the Terms and Conditions.
---
Frequently Asked Questions
Q1: Can I use a third-party app instead?
A1 : Yes you can. You can link up BiiB with other third-party apps from getbiib.com/me by following these simple steps:
Q2 : How do I make a manual submission?
A2 : You can do it through the website after logging into your account, you can follow these simple steps:
Q3: When is the last day to submit the result? Do I need to submit the result daily?
A3 : Result submission is required to be done within 72 hours after the end of the activity and before the event ends 23:59 (GMT +8).
Q4 : Is it limited to outdoor runs only?
A4 : No, indoor treadmill results are also acceptable. You may submit a photo of your treadmill dashboard and make a manual submission. Please ensure the screenshot has the compulsory items of date and/or time, duration and distance.

Note: You may use a device to show the date in your screenshot.
Q5 : Can I join more than one team in this event?
A5 : No, only one BiiB account is allowed to join the team/event.
Q6 : What does it mean 'System will not take overlapping activity into consideration'?
A6 : The system will not accept two activities for the same time, there can only be one activity for one specific period of time. The first/earliest activity to come into the system will be taken.
Eg: If you submit an activity for 10am till 11am, then your second submission states that the activity is from 10.30am to 11.30am, that is considered overlapping because you are supposed to be running from 10 - 11am and that is already one activity.
Q7 : What are sharing or tag-along activities?
A7 : This is when a submitted activity are used and shared between more than one participant.
Eg: You and your friend run together but only one person tracks the activity, only one person can submit the activity for the event. If both participants submit the same activity, both submissions will be rejected by the system.
Q8 : How does the system track the mileage and how often is the system updated?
A8 : The system is built to add up all the mileage logged by the participant right after the success sync (LIVE). The mileage display will update as soon as you have finished a run/walk with successful sync or submission.
Q9 : How does syncing third party app works?
A9 : Your activity must be synced and is in the third party app system for it to be sent to us. If there is no activity in your third party app system, we will not receive any activity from that third party app.
Q10 : Who is eligible to participate in this event?
A10 : This event is open to everyone inside and outside of Malaysia.*
*Note: Rewards will only be delivered to within Malaysia only.
Q11 : When will I receive the reward?
A11 : Shipping will only commence December 2021 onwards in batches as your items are only ordered and customised only after the event ends. (Delay may occur due to the COVID-19 situation).
*Note: We will only process returned parcels and proceed with second shipping within 30 days from the date it was returned.
Q12 : If I decided not to run, can I get a refund?
A12 : No refund is allowed as stated in the T&C.
Q13 : Will my mileage collected before the participation date count?
A13 : No, your mileage will be collected from the date and time the event begins and after you have successfully registered.
Q14 : Can I buy additional Finisher Medals and Finisher Team Plaque?
A14 : Additional rewards purchase is only available in the event registration. Participants in the 'Participation only' category that purchased the medal and/or team plaque are required to verify their address or their item(s) will be shipped to the team captain.
Q15 : Can I buy additional Finisher Medals if I did not purchase it during registration?
A15 : No, you would need to ask your members to purchase it for you when they register.
Note: The item will be sent based on the participant who bought the item's details when registering and only be given if this participant has completed the minimum requirement.
Q16 : Can I buy additional Finisher Team Plaque if I did not purchase it during registration?
A16 : Yes, the team plaque order will be open at a later stage, however, it will be at a standard price of RM99.90 per piece.
Q17 : If my team achieves the team mileage but I didn't achieve the individual mileage, will I still get the Finisher T-shirt?
A17 : No, individuals must complete the individual mileage to qualify and get the Finisher T-shirt.
Q18 : If I complete the individual mileage but the team did not complete the team mileage, will I still get the FInisher T-shirt?
A18 : No, teams must complete the team mileage to qualify and get the Finisher T-shirt.
Q19 : If one team member does not complete their individual mileage, will it affect the other team members?
A19 : No, it will only affect that specific team member.
Q20 : Why haven't my rewards arrived?
A20 : An email with tracking number from the delivery service or from us will be sent to your registered email. Participants are responsible to track their own parcel.
Q21 : What do I do if I enter the wrong information during registration?
A21 : Please email us at [email protected] with the changes you want to make (please provide your full information).
Q22 : Why didn't I receive any information from BiiB?
A22 : Please check your email or spam mail folder for our email after a successful registration.
Q23 : How will BiiB communicate with me?
A23 : We will use the details in your registration for communications and rewards. Please ensure all information provided is correct.
---
Contact Us
For any inquiries and technical issues please contact us at: [email protected]
We will get back to you as soon as possible within 3 working days, our business hours are Monday to Friday, 10am to 5pm (except Public Holidays)
---
Terms and Conditions
You can find the terms and conditions of the event and the rewards here: Terms and Conditions