Sun, 01 Apr 2018 12:00:00 AM +08 ~ Sat, 19 May 2018 11:59:59 PM +08
RUNiversity Challenge (UiTM) 2018
Finisher Medal, Finisher Tee*
RUNIVERSITY: UITM 2018 - BASIC
Graduation Rewards:
Individual Medal / Certificate of Graduation
Team Medal / Team Mileage Transcript
RUNIVERSITY: UITM 2018 - PREMIUM
Graduation Rewards:
Premium FITGEAR Finisher Tee
Individual Medal / Certificate of Graduation
Team Medal / Team Mileage Transcript
CALLING UNIVERSITI TEKNOLOGI MARA Students & Staff!!!
YOU'RE WANTED to represent Universiti Teknologi MARA for the 2018 RUNiversity Challenge.
It is not about who is the fastest runner. RUNiversity is designed to get members of UiTM to complete the challenge together as a team, motivating each other and celebrate the friendship and teamwork working towards the goal and stand a chance to beat other universities in Malaysia.
Let's RUN and CREATE the sweatest memory for your university life!!
WHERE:
Anywhere in the world with GPS tracking app
WHEN:
1st April 2018 ~ 19th May 2018 (7 weeks / 49 days)
HOW:
Run/Walk with minimum 50 KM in 7 weeks
COMMITMENT:
MYR 25 (Basic)
MYR 43 (Premium with FITGEAR Finisher Tee)
REGISTRATION PERIOD:
End on 30th April 2018
MINIMUM DISTANCE PER RUN/WALK/HIKE:
Only activity with distance more than 1 KM will be counted
HOW TO BE AN INDIVIDUAL FINISHER:
Successfully accumulate minimum 50 KM within the challenge period.
HOW TO BE A TEAM FINISHER:
The team is considered as a Team Finisher when ALL the 5 members are finishers.
TEAM SIZE:
A team needs to have 5 UiTM members.Individual participation is possible too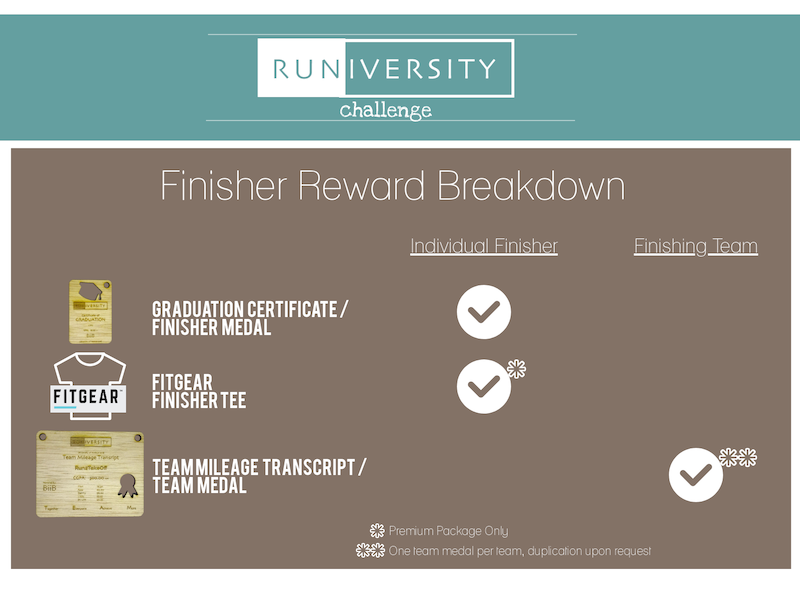 SPECIAL AWARDS
Go the extra mile, to lead, to inspire and to WOW
Finisher Tee Size Chart
PREMIUM QUALITY finisher tee from our apparel partners
ABOUT US
BiiB is managed by Neupulse Sdn. Bhd (1131988-H) who believes in creating a safe, fun & motivating running environment to help people make running a habit and enjoy this active lifestyle.
For more details, check us up here.
FREQUENTLY ASKED QUESTIONS (FAQS)
Q1: How can I create a team?
A1: After purchasing your participation tickets, we will send out an email with a step-by-step guide for team creation.
Q2: How can I join a team?
A2: The team creator will send an invitation link to you to join his/her team
Q3: Can I collect mileage by running on a treadmill?
A3: No. for RUNiversity Challenge. Run out and give a high 5 to your uni-mate
Q4: When can I receive the reward?
A4: The reward is highly personalised for you. We will have an award giving ceremony in UiTM.
Q5: Can I use other third-party run tracking apps for this challenge?
A5: Yes you can but not recommended. Make sure you submit the screenshots to us via getBiiB.com/me for timely updates. We strongly recommend BiiB+ app to make this challenge fun and hassle-free!
Q6: Can the staffs and students form a team together?
A6: Yes you can as long as all members in the team are from UiTM.
Contact Us
Feel free to contact us for assistance via Facebook Messenger or hello@getBiiB.com