Join us and fundraise for our MARIBANTU initiative
Event Details
MUDA invites you to join our first-ever virtual run, a ten-day virtual experience.
You get to run with us, from the comfort of your own space. Our mission is to fundraise for our MARIBANTU initiatives; serving underprivileged Malaysians.
We are looking to get a minimum of 1000 runners. Individually, we strive. Together, we thrive!
Whether you are an avid runner, wanting to get some exercise and be healthy, or just to have fun, we welcome everyone.
Decide on a distance goal and just run. The great thing about a virtual run is that you get to choose when, where and how far you walk or run!
Get your family, friends, and co-workers involved to join you together or "virtually"! Set running, training, and fundraising goals together, and most importantly make a difference in the lives of those we serve via Mari Bantu.
Know that every time you get further in distance, someone in need is helped!
"The miracle isn't that I finished. The miracle is that I had the courage to start." – John Bingham
Register as a MUDA member here: https://muda.my/sertai/
#jomlarimudaVR2021 #Mudarun #Mudasudahmula
---
Timeline and Fees
Fees
---
Charity and Contribution
In these uncertain times, MUDA's Mari Bantu aims to reach out to communities who are struggling amidst the Covid-19 pandemic.
The Mari Bantu initiative, gives us the opportunity to play a part in lifting those in need and are struggling in silence during this pandemic. We believe that humanity still exists within our great community.
Almost daily, we hear of heart wrenching situations faced by the lower income groups and the adverse implications on households, since the lockdowns were initiated.
Lives and livelihoods are almost at a standstill, as the country records daily deaths in hundreds.
Unfortunately, those in or under the B40 income group, are made to quarantine at home. The future seems bleak without means to an end, they struggle for a better tomorrow.
We at Muda want you to know that for those under quarantine and feeling helpless, we are here, a call away.
Since starting MariBantu, we have assisted more than 433 families amounting to RM28000, which was contributed by caring Malaysians.
MUDA MARIBANTU believes that there is a hero within all of us. Don't be ashamed to ask for help, we are in this together.
Let us know the necessities you need and we will assist to ease that burden.
For every step you take under JOM LARI MUDA VIRTUAL RUN together, we emerge stronger and united.
If you would like to contribute to the fund, please click this link: https://maribantu.my/
---
Challenges
---
E-certificate
All participants that completes their respective 5 KM & 10 KM will receive an E-certificate of Completion.
---
Race Pack
---
Format and Rules
You can join the JOM LARI MUDA VIRTUAL RUN as an individual runner to support the MARI BANTU initiative.
All runners have to ensure that they complete their selected mileage in order to be qualified.
Rules
R1: Participants are only allowed to submit distance tracked activities. Step Count activity will NOT be accepted.
R2: Participants to ensure that all activities are;
From an active running/walking activity. Tracking your steps/walk over the whole day is not an active activity. (Shopping and tracking is not allowed too).

Synced/submitted into their registered account within 72 hours after the end of each activity and before the end of the event at 23:59 Sunday 26th September 2021 (GMT +8). Late submissions will not be accepted.

Submitted with the necessary information; Start date and time, duration, distance and route* (*for outdoor activity only).
See full list of Rules in the 'Submission of results' section in the Terms and Conditions.
---
Frequently Asked Questions
For event related FAQ, please refer below:
Q1 : Can I use a third-party app instead?
A1 : Yes you can. You can link up BiiB with other third-party apps from getbiib.com/me by following these simple steps: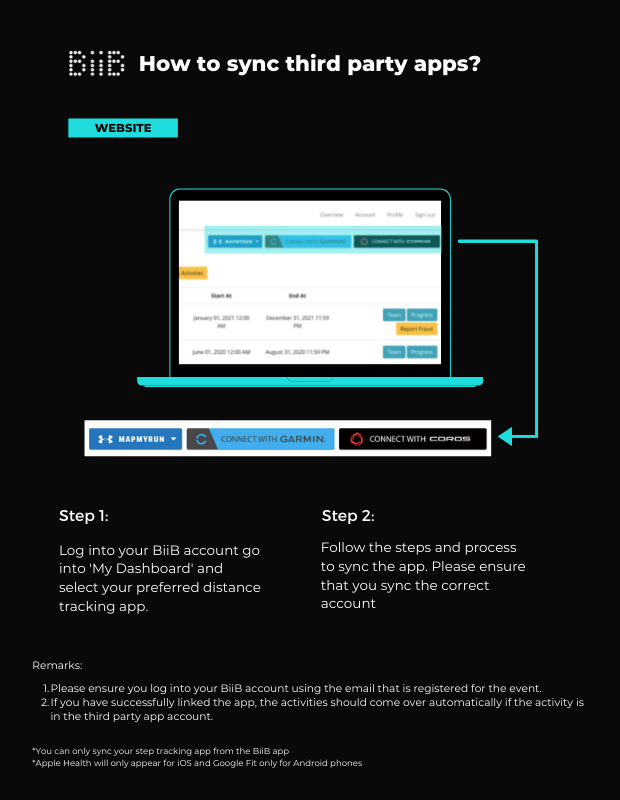 Q2 : How do I make a manual submission?
A2 : You can do it through the website after logging into your account, you can follow these simple steps:
Q3 : When is the last day to submit the result? Do I need to submit the result daily?
A3 : Result submission is required to be done within 72 hours after the end of the activity and before the event ends on Sunday 05th September 2021 23:59 (GMT +8).
Q4 : Is it limited to outdoor runs only?
A4 : No, indoor treadmill results are also acceptable. You may submit a photo of your treadmill dashboard by manual submission.
Q5 : Can I join more than one category in this event?
A5 : No, only one BiiB account is allowed to join the team/event.
Q6 : Who is eligible to participate in this event?
A6 : This event is open to everyone inside and outside Malaysia​.
Q7 : How will I receive the entitlements?
A7 : The entitlements will be sent by the Event Organiser, please contact them for more info.
Q8 : If I decided not to run, can I get a refund?
A8 : No refund is allowed as stated in the T&C.
Q9 : Will my mileage collected before the participation date count?
A9 : No, your mileage will be collected from the date and time the event begins.
Q10 : What do I do if I enter the wrong information during registration?
A10 : Please email us at [email protected] with the changes you want to make.
---
Contact Us
For any inquiries about the event, please contact the Event Organiser, JOM LARI MUDA VIRTUAL RUN at [email protected]
For any inquiries and technical issues please contact us at: [email protected].
We will get back to you as soon as possible within 3 working days, our business hours are Monday to Friday, 10am to 5pm (excluding Public Holidays).
---
Terms and Conditions
You can find the terms and conditions of the event and the rewards here: Terms and Conditions