Moving the Nation, Beyond Aspiration
Organiser's Note: Final results will be announced by the Event Organiser at the HPTN 2021 Virtual Platform. For any enquiry please contact the Organiser Ir. Muhammad Fadzli bin Muhammad Saleh at

[email protected]

or Ir. Muhd Nor Ridhwan bin Zainal Abidin at

[email protected]

. You can register for the platform here
---
Event Details
HPTN signifies the highest recognition by the nation to the technical professions in Malaysia for their invaluable contribution to the development of infrastructure and modernisation of the country encompassing various technical fields including engineering, astronomy, science, technology, construction, architecture and surveying.
HTPN, which is celebrated on the first Saturday of December each year, serves as an inclusive platform for technical professions from both, public and private sectors to share their technical-centric knowledge, expertise and experience as well as providing awareness to the general public, especially those who are inclined and interested in technical domains.
This year, HPTN 2021's celebration will kick start with pre-summit activities from 15 November 2021 to 3 December 2021 and followed by the summit from 4 to 7 December 2021. The opening ceremony will be officiated by the Prime Minister of Malaysia, YAB Dato 'Sri Ismail Sabri Bin Yaakob on 4 December 2021. In line with the new norms, HPTN 2021 will be fully implemented online through a virtual conference platform.
'Moving the Nation, Beyond Aspiration' has been chosen as HPTN 2021' theme. Various programmes and activities have been planned during this year's celebration, including competitions (online and offline), webinars and virtual booths by participating Strategic Partners.
Further information on the HPTN 2021 can be found here
Timeline

Registration
15 October 2021

(00:00)




until

15 November 2021

(23:59)



Running
16 November 2021

(00:00)




until

30 November 2021

(23:59)
Venue
DIGITAL - Please obey the current Movement Control Order in your area and social distancing rules.
---
Participation
---
Entitlements
Size Chart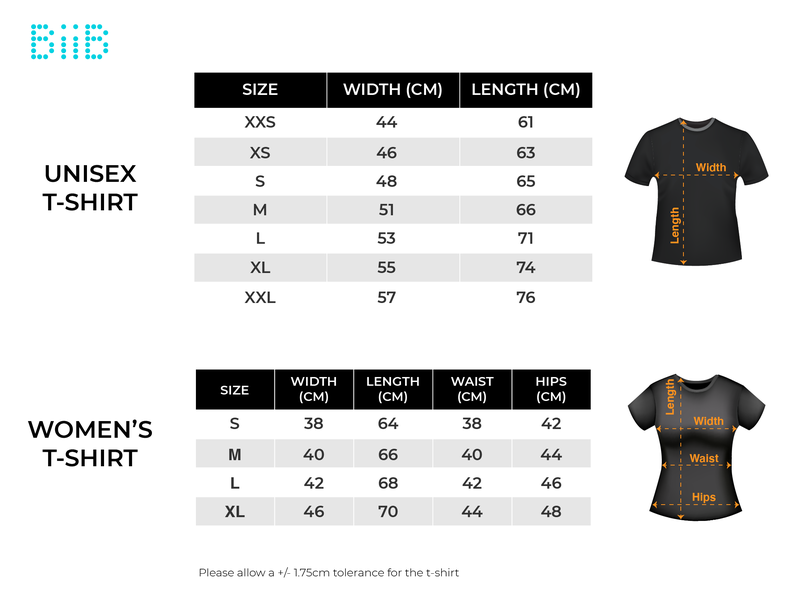 ---
Rules
R1: Participants are only allowed to submit distance tracked activities. Step Count activity will NOT be accepted.
R2: Participants to ensure that all activities are;
From an active running/walking activity. Tracking your steps/walk over the whole day is not an active activity. (Shopping and tracking are not allowed too).

Results are synced or submitted within 72 hours after the end of each activity and before the end of the event at 23:59 30th November 2021 (GMT +8). Late submissions will not be accepted.

Submitted with the necessary information; Start date and time, duration, distance and route* (*for outdoor activity only).
See full list of Rules in the 'Submission of results' section in the Terms and Conditions.
---
Frequently Asked Questions
For event related FAQ, please refer below:
Q1 : Do I need to submit the result daily?
A1 : Result submission is required to be done within 72 hours after the end of the activity and before the event ends 23:59 (GMT +8).
Q2 : Who is eligible to participate in this event?
A2 : This event is open to everyone in Malaysia only​.
Q3 : How will I receive the rewards?
A3 : All rewards for the team will be sent to the team captain. The participants are responsible for getting their rewards from their team captain. Delivery of items will only commence 25th January 2022 onwards. (Please expect a delay in the production and delivery of the rewards due to the Covid-19 situation)
Q4 : If I decided not to run, can I get a refund?
A4 : No refund is allowed as stated in the T&C.
Q5 : Will my mileage be collected before the participation date count?
A5 : No, your mileage will be collected from the date and time the event begins.
Q6 : What do I do if I enter the wrong information during registration?
A6 : Please email us at [email protected] with the changes you want to make.
---
Contact Us
For any inquiries on the event and rewards, please contact Ir. Muhammad Fadzli bin Muhammad Saleh at [email protected] or Ir. Muhd Nor Ridhwan bin Zainal Abidin at [email protected]
For any inquiries and technical issues please contact us at: [email protected].
We will get back to you as soon as possible within 3 working days, our business hours are Monday to Friday, 10am to 5pm (excluding Public Holidays).
---
Terms and Conditions
You can find the terms and conditions of the event and the rewards here: Terms and Conditions