Do you know what it takes to be a RARE i.e. 1 in a 100,000? Join 9.22 Walk for CML with Chronic Myeloid Leukemia (CML) community of Malaysia & find out on Sept 22 '19

Event Details
Walking Period
Start at: 18th August 2019 (00:00) GMT +8
End at: 8th September 2019 (23:59) GMT +8
Registration Period
Start at: 18th August 2019(00:00) GMT +8
End at: 2nd September 2019 (23:59) GMT +8
Celebrate LIFE with RARE Malaysians living with Chronic Myeloid Leukaemia (CML). Join us on this walk to learn how CML survivors continue to walk together each day, sing songs together, and hold hands. Find out how a diagnosis of CML cancer does not kill, but instead spurs a celebration of life, on 22 September. See that life goes on, when it is supported by a community of patients, caregivers, healthcare providers including government, pharmaceutical companies, and the community - providing a second chance.
This Event Is Supported By Novartis
Fees
9.22KM Walking Package – RM100 per pair + RM5 processing fee
22.9KM Walking Package – RM160 per pair + RM5 processing fee
Want to Support but Can't Walk?
Donation lot: RM9.22 or RM 22.90 To commemorate 22 September as CML Awareness Day, we are limiting donation lots to RM9.22 or RM 22.90. Should you wish to donate more, you may multiply the lots according to your preferred donation amount.*
RM1.80 (Processing Fee)
Note: Each donation lot will incur RM1.80 processing fee, multiplied according to the number of donation lots you choose. However, only the 1st RM1.80 will used as processing fee. All subsequent RM1.80 per lot, will be put forward towards the same donation.
.
(E.g: (RM9.22 + RM1.80) x 5 times =RM55.10, ONLY RM1.80 (x1) will be deducted as processing fee. The remaining RM1.80 (x4) will be added on to the donation.
Rewards
9.22km Walking Package
Finisher T-shirt (Black)

Collar Pin

E-certificate
22.9km Walking Package
Finisher T-shirt (Red)

Collar Pin

Medal

E-certificate
All pictures shown are for illustration purpose only, actual product may vary.
Finishing package will be mail for the team (two members) to one mailing address.
T-shirt For 9.22km
T-shirt For 22.9km
T-shirt Size Chart
Collar Pin
Medal
Each team of two (2) pax will receive two (2) separate medal halves (on individual lanyards) which can be combined to make 1 whole medal.
Special Award
9.22km – Shortest Time to Complete– Gift: Sudio Tio
22.9km – Longest Distance Within the Walk Period – Gift: Sony Wireless Headset
Submissions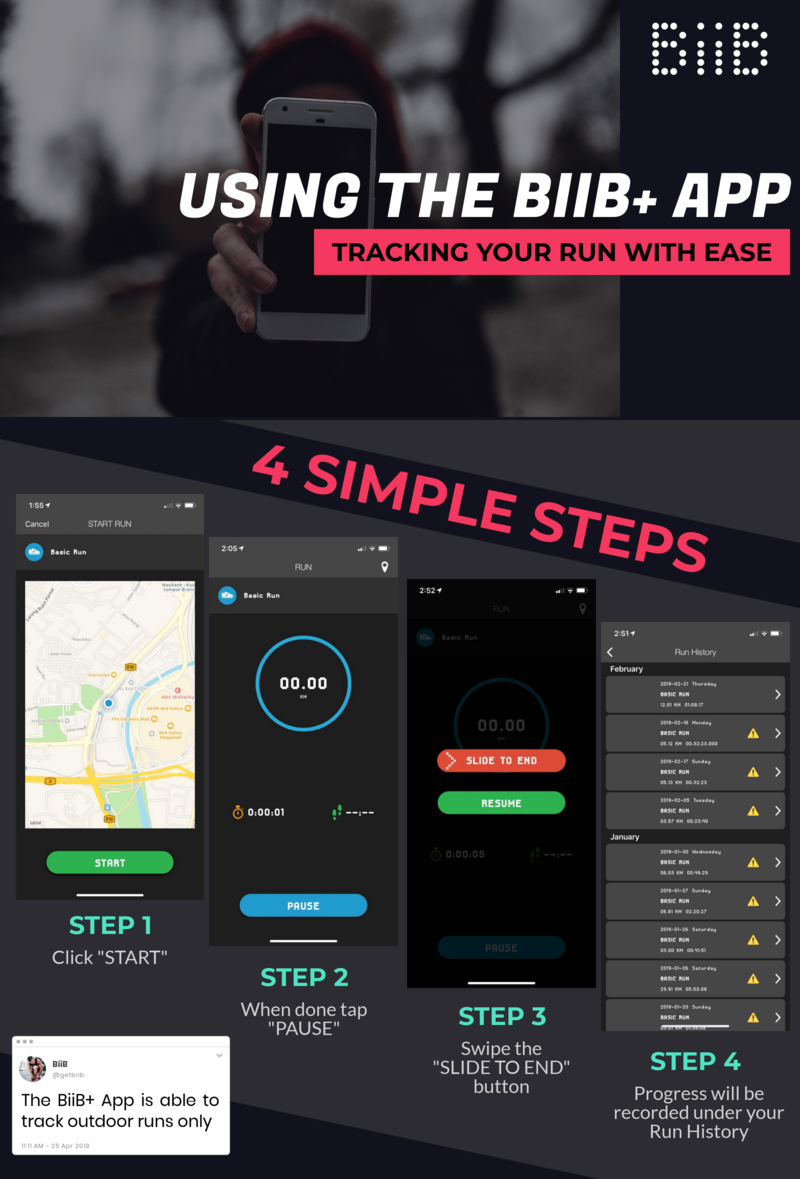 Frequently Asked Questions
Q1. When is the last day to submit the result? Do I need to submit the result daily?
A1. Last day for result submission is on 8th September 2019 (23:59 UTC+8). You only need to submit your result when you and your teammate has completed the required distance.

Q2. Can I collect mileage on treadmill?
A2. Yes, you can. A manual submission is required. Follow the how to do a manual submission guide above.

Q3. What kind of results are accepted?
A3. You can submit your outdoor GPS-tracked run result automatically using BiiB+ app or link your BiiB account to Strava. Alternatively if you are using third party application like Nike Run Club, Runkeeper, Runtastic and etc, you can submit your result using Manual Submission (refer to the steps above). Treadmill running result requires Manual Submission too. Step counter result is also acceptable via Manual Submission.

Q3. If I join after the event started, will my personal mileage collected before the joining date be counted?
A3. Yes. As long as it is properly tracked and falls within the event period. Manual submission is required if the activities are tracked using third party tracker.

Q4. How does the system track team mileage and how often is it updated?
A4. The system is built to add up all the mileage logged by team members right after each successful sync. The mileage displayed will be updated as soon as someone in the team has finished a run/walk with a successful sync or submission.

Q5. Can I run outside of Malaysia?
A5. Yes, you can. However, we only provide shipping services to Malaysian addresses.

Q6. When will the entitlements reach me?
A6. The entitlements will be shipped and expected to reach you within the month of September 2019. A tracking number will be provided to all the finishers to track the shipment.

Q7. Who is eligible to participate in this event?
A7. This event is open to all Malaysians with a valid Malaysian Identification Card (NRIC)

Q8. If I decide to not walk after joining, can I get a refund?
A8. Participation Fees are non-refundable

Q9. Can I still get the reward if I did not finish the challenge?
A9. Reward is only for participants who completed the selected distance within the given time frame.
Q10. Can I transfer my reward to others?
A10. No. The reward is only given to the registered participants (record based on personal identity, NRIC)
Q11. Why don't I receive any information from BiiB?
A11. Please check your email or spam mail folder for our email after successful registration. Announcements and updates will be informed via email.
Contact Us
Event Coordinator:
Mandy
Phone: 03-7831 7009
Email: [email protected]
Max Family:
Facebook: https://www.facebook.com/maxfamilymalaysia/
Website: http://www.maxfamily.org/
For technical support
Email us at [email protected]
Max Family Virtual Walk Term and Conditions:
9.22 Walk for CML ['here after referred to as Event'] is a virtual walk organised by Max Family Society Malaysia [' here after referred to as Organiser'] and is open to anyone aged 13 and above; participants partake in the sessions at his/her own free will.
This Event will be held from 18th August 2019 (00:00 UTC+8) to 8th September 2019 (23:59 UTC+8). The Organiser reserves the right to postpone or cancel the Event at any time.
Participants acknowledge that they will only receive finisher awards (T-shirt, Collar Pin or Medal) if; (i) they are registered by the cutoff date listed on the organizer's website, (ii) completed the required distance and (iii) submitted the result on or before the closing date.
Finisher awards will be mailed to the address provided by the participant at registration.
Participants declare that they are physically fit and capable of participating in this event and completing the distance they have selected. The Organiser shall not be liable for any accident or mishap which arises as a result of non-disclosure of medical conditions by the Participants.
Participants acknowledge that this is a virtual walk and that the organizers will not track or verify results or provide volunteers, marshals or medical personnel assistance to any participant.
Participants consent to royalty-free use of their name, result, image, photographs, video and comments in any publications and marketing in relation to this event by event organizers.
Once Participant's registration has been duly processed, there will be NO refund for Participant who eventually decides not to take part in the Event for whatsoever reason.
Entries are non-transferable.
By agreeing to these Terms and Conditions, participants release event organizers and/or their subcontractors, from all claims in connection to this participation. Participants indemnify the event organizer and/or their subcontractors, sponsors, volunteers, and employees involved in this event directly or indirectly against all liability for any and all injury, loss or damage in connection to their participation in this event.
Participants accept that participation in this event is at their own risk and they accept that participating in this event may involve real risk of injury or death.
Participants acknowledge they will participate and complete their selected distance in a manner chosen by them, at locations chosen by them and at their own risk.
After completing the walk, participants must upload walk details, photo or record to Biib Apps or Strava integration feature to link up with Garmin, Suunto and other run tracking applications. Participants who fail to complete the walk and/or submit their results will not be eligible to receive the finisher entitlements.