RM3,000 cash credit to be won in the toughest & most rewarding RUN STREAK challenge to start your New Year 2020!
Event Details
#TeamRunStreak is the NEW Team Challenge that will motivate you to start your New Year 2020 in the perfect way!
Join as a Team of 5 to challenge 2 KM a day (for each member) for 31 consecutive days without a miss to become a run streaker and stand a chance to win attractive giftcards worth a total of RM3,000!!!!
Registration Period: NOW ~ 31st December 2019, 23:59:59 (GMT +8)
Challenge Period: 1st January 2020, 00:00:00 (GMT +8) ~ 31st January 2020, 23:59:59 (GMT +8) [31 days]
Fees
RM 30.00 per team (RM 6.00 per participant)
---
Rewards

Prizes:
The SportsDirect.com giftcards will be rewarded to a maximum of three (3) winning teams only.
If more than three (3) teams survive till Day 31, the challenge will continue and from Day 32 onwards, the daily minimum mileage per runner will increase by 1KM until the winning team(s) emerge.
If less than three (3) teams survive the challenge, only these winning teams will be awarded the giftcard.
| | | |
| --- | --- | --- |
| #Day | Number of Surviving Teams | KM/Runner/Day |
| Jan 30 (Day 30) | 5 | 2 |
| Jan 31 (Day 31) | 5 | 2 |
| Feb 1 (Day 32) | 5 | 3 (2+1) |
| Feb 2 (Day 33) | 3 (winning teams - end of RunStreak Challenge) | 4 (3+1) |
Runners of the winning teams of #TeamRunStreak will be featured in Jom Kita Lari.
Special Notes
Daily result submission is required to be done before 23:59 (GMT +8) each day.
Runners are responsible to make sure the distance ran is tracked and synced, and must ensure that the results submitted are genuine and well tracked with the following mandatory information:
Distance
Duration
Pace
Running Route (for outdoor)
Participant(s) & the team will automatically get disqualifed (DQ) if one of the following is identified / occurs:
Unrealistic / faulty results (evidence & data will be collected)
Strava Tag Along / Using results that belong to another runner (evidence & data will be collected)
Failure to respond to the result enforcement officer within 72 hours to provide more information to support the result such as split timing, official race result or Strava privacy settings and etc.
Once a team member fails to run the minimum mileage required or fails to submit the results on time by the end of each day within the challenge period, the entire team will be automatically marked as Did Not Finish (DNF).

Tell the world you are going to start the new year 2020 with #TeamRunStreak with the following profile banner!
*The banner will be attached in the email upon your successful registration
Frequently Asked Questions

Q1. What is the reason my BiiB+ app is not tracking my run properly?
A1. It happens to some Android devices' battery optimization process and could be fixed by following these simple steps:
Click "Option" (the 3 dots at the bottom right corner of BiiB+ app) > "Check Device" > Select your phone brand > Follow the displayed instructions.
Other than that, the GPS signal may also be affected when there are tall buildings/mountains or roofed areas blocking the signal. You can use our Strava integration feature to link up with your Garmin, Suunto and other run tracking applications.
Q2. How do I submit my result if I am using a third party app?
A2. You can link up BiiB with Strava from getbiib.com/me or do a manual submission. Screenshot your run and submit it via the runner dashboard after logging into your account.
Q3. How do I submit my result if I am using the BiiB+ app?
A3. Sign in using your registered email address. All your activities tracked within the event period will be automatically synced with the team/individual progress of the challenge. Make sure you have an active internet connection to sync the activity.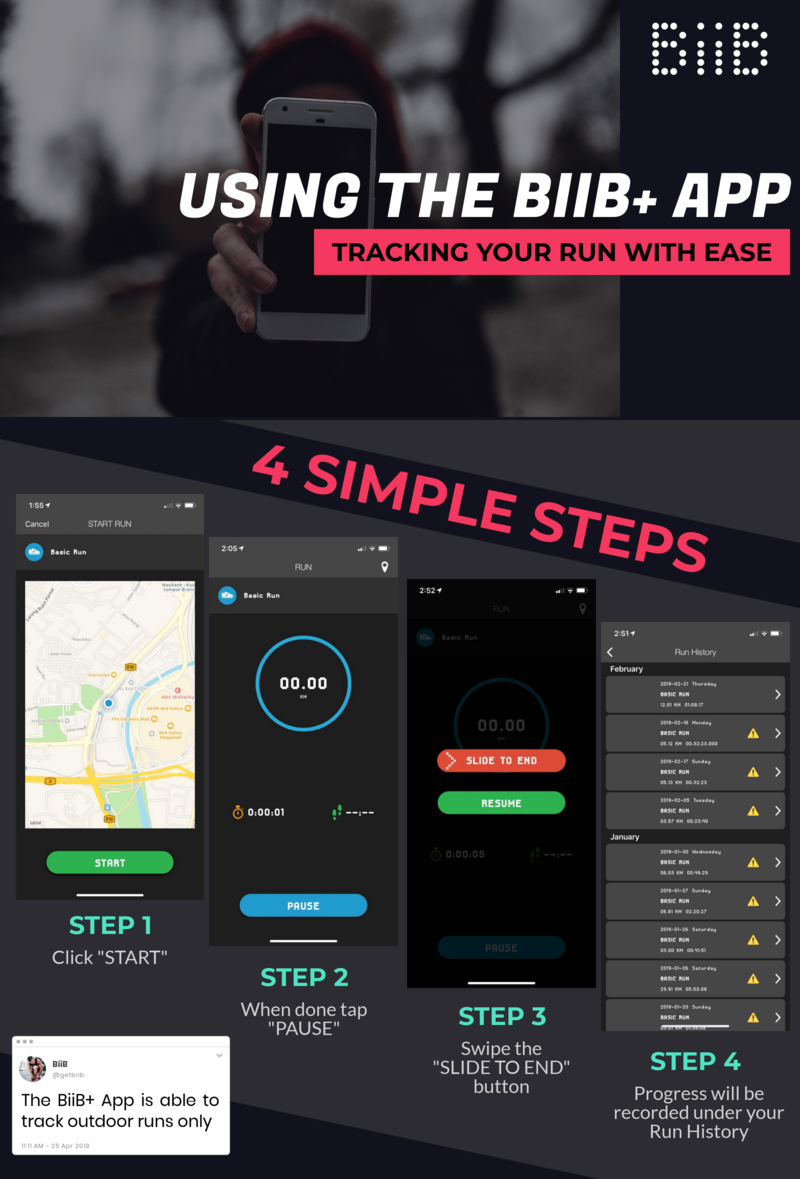 Q4. Do I need to submit the result daily?
A4. Run streak requires each runner to submit the running result everyday before the 23:59.:59 GMT+8 to qualify.
Q5. Can I collect mileage on treadmill?
A5. Yes you can. A manual submission is required. Follow the instruction in A2 for submission.
Q6. Is it limited to outdoor runs only?
A6. No. You can run either outdoor (must be GPS tracked) or indoor using treadmill. Step counter results are not accepted.
Note: BiiB+ app can only track outdoor run due to gps limitations.
Q7. Is walking counted?
A7. Of course! The aim of this challenge is to motivate participants to stay active. It doesn't matter whether you're fast or slow.
Q8. If I join after the event has started, will my mileage collected before the participation date count?
A8. No, it won't count. Kindly register before the event starts.
Q9. How does the system track the team mileage and how often is the system updated?
A9. The system is built to compile the results logged by each team member right after a successful sync (LIVE)/submission. You can view it either in the BiiB+ App under "Event" (second tab from the left) or via the personal running dashboard at getBiiB.com/me.
Q10. Who is eligible to participate in this event?
A10. This event is open to everyone, inside or outside Malaysia.
Q11. Can I run outside of Malaysia?
A11. Yes you can. However, the start and end time will be based on Malaysia timezone.
Q12. What if I want my reward to be shipped outside of Malaysia?
A12. Not applicable for Run Streak.
Q13. When will the giftcard reach me?
A13. We will announce the winner after the challenge ends and the giftcard will be shipped out to all the Winning Team's captain within 30 working days from the end date of the challenge.
Q14. If I decide to not run, can I get a refund?
A14. No. The fee is NOT refundable.
Q15. Can I still get the reward if I did not finish the challenge?
A15. No.
Q16. Can I request to send my finisher item to someone else?
A16. Not applicable for Run Streak.
Q17. Can I change my t-shirt size and shipping address after registration?
A17. Not applicable for Run Streak.
Q18. What if I missed the delivery and exceeded the grace period?
A18. The reward will be sent back to us. You can either self-collect from our office or contact us to arrange for a second shipment (additional charges will apply).
Q19. Can I change my team after registration?
A19. No, changing of teams is not allowed.
Q20. Why don't I receive any information from BiiB?
A20. Please check your inbox or spam mail folder after successful registration. Announcements and updates will be informed through email.
Contact Us
For more enquiries on this event, please contact us via