BiiB x Malaysian Aids Foundation (MAF)
Event Details
Our BiiB annual ramadhan challenge is here in partnership with the Malaysian Aids Foundation. A challenge on teamwork, discipline & consistency during Ramadhan but also for charity! Run together as a team to foster the spirit of togetherness in the month of Ramadhan and Raya.
Team size
Fixed 10 runners/team
Details of challenge
Registration: 2/3/2020 – 23/4/2020
Running period: 24/4/2020 (00:00) – 7/6/2020 (23:59)
Winner announcement: 8/6/2020 - 15/6/2020 (MAF will be contacting the winners regarding the rewards)
Venue: Run anywhere outdoor
Goal
Each team member has to run a minimum of 5km per session without missing any of the 9 sessions
1 session = 5 days
9 sessions = 45 days
Fees
RM15 per person (RM150 per team)
Rewards
E-cert for all team members that completes all 9 sessions
All members of the top 3 finishing teams and 1 lucky finishing team will be selected to join Dato' Aaron Aziz for a Raya Buffet!
Note: If there are more than 3 teams that survives all 9 sessions, the top 3 teams with the highest mileage will be chosen. The 1 lucky finishing team will be drawn by MAF
Special Notes
Result submission is required to be done within 24 hours of the activity and before 23:59 (GMT +8) at the end of each session
It is highly recommended to submit/sync your results immediately after every activity.
Runners are responsible to make sure that the distance ran is tracked and synced, and must ensure that the results submitted are genuine and well tracked with the following mandatory information:
Distance
Duration
Pace
Running Route (for outdoor)
Participant(s) & the team will automatically get disqualifed (DQ) if one of the following is identified / occurs:
Unrealistic / faulty results (evidence & data will be collected)
Strava Tag Along / Using results that belong to another runner (evidence & data will be collected)
Failure to respond to the result enforcement officer within 72 hours to provide more information to support the result such as split timing, official race result or Strava privacy settings and etc.
Once a team member fails to run the minimum mileage required or fails to submit the results on time by the end of each session within the challenge period, the entire team will be automatically marked as Did Not Finish (DNF).
Frequently Asked Questions
Q1 : What is the reason my BiiB+ app is not tracking my run properly?
A1 : It happens to some Android devices' battery optimization process and could be fixed by following these simple steps;
Click "Option" (the 3 dots at the bottom right corner of BiiB+ app) > "Check Device" > Select your phone brand > Follow the displayed instructions.
Other than that, GPS signal might also get affected by the environment when there are tall buildings/mountains or roofed area blocking the signal. You can also use our Strava integration feature to link up with your Garmin, Suunto and other run tracking applications.
Q2 : Why does my GPS signal is displayed as weak on the BiiB app?
A2 : GPS signal reception may be weak if you run between high rise buildings or in areas that have lots of tall buildings, it's best to run in an open clear area.
Q3 : Why do I receive a notification about beeing too fast?
A3 : This happens when the system deems you being too fast which may be caused by weak GPS signals. After checking those activities, we will contact you if we need more clarification regarding the activity.
Q4 : Can I use a third party app and how to submit my result if I am using a third party app?
A4 : Yes you can, You can link up BiiB with Strava from getbiib.com/me or a manual submission of the screenshot of the activity's result by logging into your runner dashboard is required.
Q5 : How to submit my result if I am using BiiB+ app?
A5 : If you're signing in using the registered email address, all your activities tracked between the event period will be automatically synced with the team/individual progress of the challenge. Make sure you have an active internet connection to sync the activity.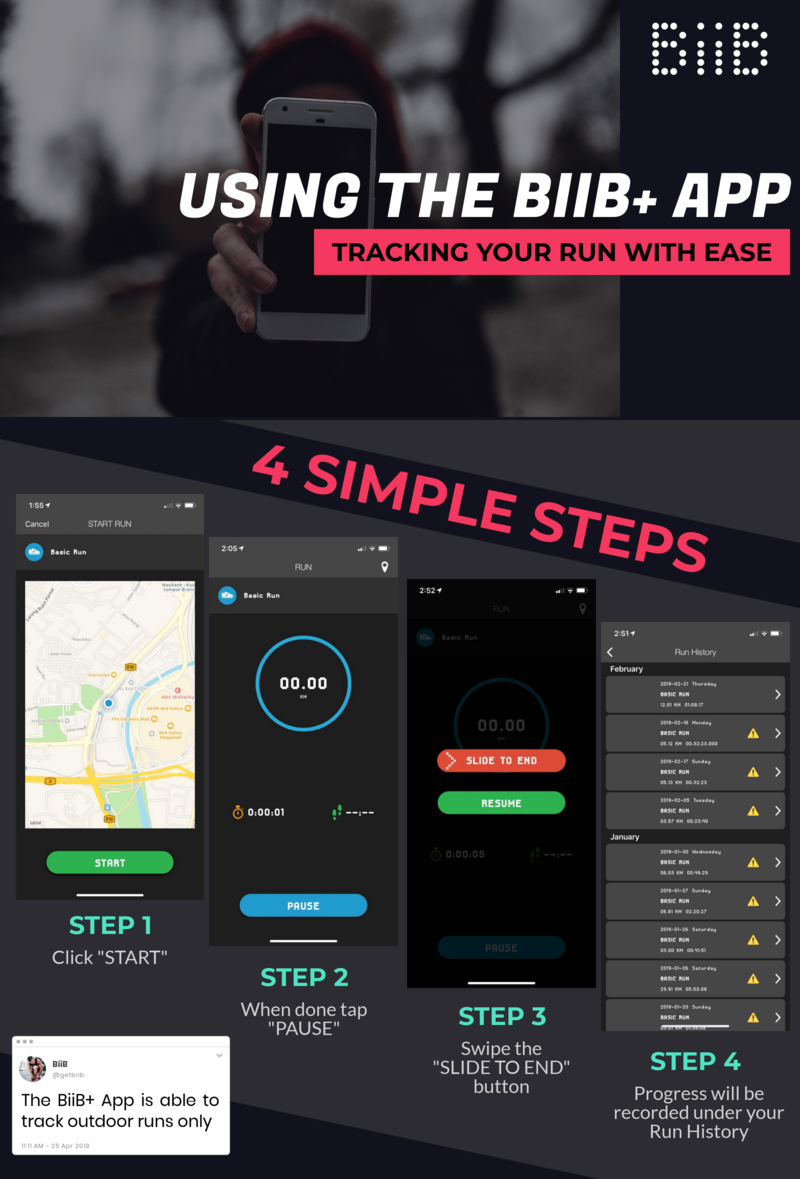 Q6 : How much of the registration fee is donated to MAF?
A6 : 20% of the registration fees goes to MAF.

Q7 : How to be a team finisher?
A7 : The team is considered as a Team Finisher when all team members complete all 9 sessions without a miss

Q8 : When is the last day to submit the result? Do I need to submit the result daily?
A8: Result submission is required to be done within 24 hours of the activity and before 23:59 (GMT +8) at the end of each session
Q9 : Is it limited to outdoor run only?
A9 : Yes, strictly outdoor only. Indoor treadmill and step counter results will NOT be accepted
*Note: BiiB+ app can only track outdoor run due to GPS limitations
Q10 : Is walking counted?
A10 : Of course! The aim of this event is to motivate participants to stay active. It does not matter whether you're fast or slow

Q11 : How does the system track the team mileage and how often is the system updated?
A11 : The system is built to add up all the mileage logged by the team members right after the success sync (LIVE). The mileage display will update as soon as someone in the team has finished a run/walk with a successful sync or submission. You can view it either in BiiB+ App, under event (second tab from the left) or via personal running dashboard at getBiiB.com/me.

Q12 : Who is eligible to participate in this event?
A12 : This event is open to everyone in and out of Malaysia

Q13 : Can I run outside of Malaysia?
A13 : Yes you can. However, the start and end time will be based on Malaysia's timezone.
Q14 : What if I want my reward to be shipped outside of Malaysia?
A14 : Not applicable for The Red Ramadhan Challenge
Q15 : How will I receive the reward?
A15 : The top 3 teams (highest mileage) and 1 lucky finishing team will be contacted by MAF regarding the reward
Q16 : If I decided not to run, can I get a refund?
A16 : Participation Fee is NOT refundable.

Q17 : Can I change my team after registration?
A17 : No. Changing of teams is not allowed.

Q18 : Why didn't I receive any information from BiiB?
A18 : Please check your email or spam mail folder for our email after a successful registration. Announcements and updates will be informed through email.