A showdown between MEN and WOMEN to crowdfund PPE for the front-liners by running 20,000KM as a team.
Event Details
The MenVsWomen Charity Challenge is a LIVE charity challenge between Team MEN & Team WOMEN to run/walk 20,000KM each to crowdfund Personal Protective Equipment (PPE) for our front-liner in Hospital Kuala Lumpur (HKL). It is led by 2 organisations; Malaysia Women Marathon (MWM) and Malatra.
This challenge will see a clash between Team WOMEN led by MWM and Team MEN led by Malatra to gather female and male runners to run/walk towards the 20,000km mark and compete on the total donation amount. The organizer will contribute extra fund based on the progress of each team (MEN/WOMEN)
Come on Gentlemen, your brothers need your strength to win this.
Come on Ladies, your sisters are calling for your support too.

Husband and wife, don't fight, JOIN THE RUN and we will know who is the winner! Let's have some fun running/walking on your own and stay safe!
Team size
Men's Team led by MALATRA - No maximum number
Women's Team led by MWM - No maximum number
Details of challenge
Registration: 20/4/2020 – 12/5/2020
Challenge period: 22/4/2020 (00:00) – 19/5/2020 (23:59); 4 weeks
Venue: In your home
*Please obey the Movement Control Order
Contribution
With each participation fee, RM10 will go directly into the contribution pool of the respective team. Other amounts, after deducting cost will be as follows;
TIER 1 GOAL:
Team that reaches 500 participants FIRST, organizer add-on RM1,000
Team that reaches 500 participants LATER, organizer add-on RM250
TIER 2 GOAL:
Team that reaches 1,500 participants FIRST, organizer add-on RM2,000
Team that reaches 1,500 participants LATER, organizer add-on RM500
MILEAGE GOAL:
Team that reaches 20,000 KM FIRST, organizer add-on RM1,500
Team that reaches 20,000 KM LATER, organizer add-on RM750
WANT TO CONTRIBUTE MORE?
Donation Top-up Option is Closed
List of Donors:
Debby Wong <RM20> Team Women
Avita <RM10> Team Women
Ng Seow Kong <RM100> Team Men
YSA Lai <RM50> Team Women
Agnes Chang <RM100> Team Women
Nadhirah <RM50> Team Women
Jeffery Budin <RM50> Team Men
Diyana Balqis <RM50> Team Women
Last Update: 1200 (MYT) 25 May 2020
*If your name is not on our donors list 24 hours after placing your donation, please contact us at [email protected]
Rewards
TOP 200 Runners

A choice of the following sponsored by MCIS Life MWM2021:

A Complimentary 5KM Slot at MCIS Life MWM2021; or
50% Discount on any distance category at MCIS Life MWM2021; or
10% Discount to participate in Malatra Endurance Run 2020 (December)

E-cert for all stating the amount of contributions raised and total mileage
Weekly Surprise Lucky Giveaway from our sponsors including
Rules
All runs must be synced/submitted within 24 hours of the activity time
Follow the Movement Control Order (MCO) if you are in Malaysia
Runners are responsible to make sure the distance ran is tracked and synced (INDOOR TRACKING MODE IS RECOMMENDED), and must ensure that the results submitted are genuine and well tracked with the following mandatory information:

Distance
Duration
Pace
Date/Time
Running Route (outdoor only)

System will not taking overlapping activity into consideration
You're not allowed to make changes to any synced/submitted activity after 24 hours to allow result verification system to perform the result validity screening process. If the result wasn't tracked properly or showing unrealistic result, kindly delete the activity within 24 hours too.
Participant(s) will automatically get disqualifed (DQ) if one of the following is identified / occurs:

Unrealistic / faulty results (evidence & data will be collected)
Strava Tag Along / Using results that belong to another runner (evidence & data will be collected)
Failure to respond to the result enforcement officer within 24 hours to provide supporting information to justify the result such as split timing, official race result or Strava privacy settings and etc.
Recommended FREE Android/iOS App With Indoor Run Tracking
MAPMYRUN ✓Auto-sync to BiiB
STRAVA ✓Auto-sync to BiiB

Able to link to Garmin, Suunto, Coros and most of the GPS running watches
All recent GPS running watches have Indoor Running Mode

NIKE RUN CLUB ✓Manual Submission Required
PUMATRAC ✓Manual Submission Required
SPORTS TRACKER ✓Manual Submission Required
ENDOMONDO ✓Manual Submission Required
Frequently Asked Questions
Q1 : What is the reason my BiiB+ app is not tracking my run properly?
A1 : GPS signal might also get affected by the environment when there are tall buildings/mountains or roofed area blocking the signal. You can also use our Strava/MapMyRun integration feature to link up with your MayMyRun account or STRAVA which can be linked to Garmin, Coros, Suunto and other run tracking applications.
Q2 : Can I use third party app and how to submit my result if I am using third party app?
A2 : Yes you can, You can link up BiiB with Strava from getbiib.com/me or a manual submission of the screenshot of the activity's result by logging into your runner dashboard is required.
Q3 : How to submit my result if I am using BiiB+ app to track?
A3 : If you're signing in using the registered email address, all your activities tracked between the event period will be automatically synced with the team/individual progress of the challenge. Make sure you have an active internet connection to sync the activity.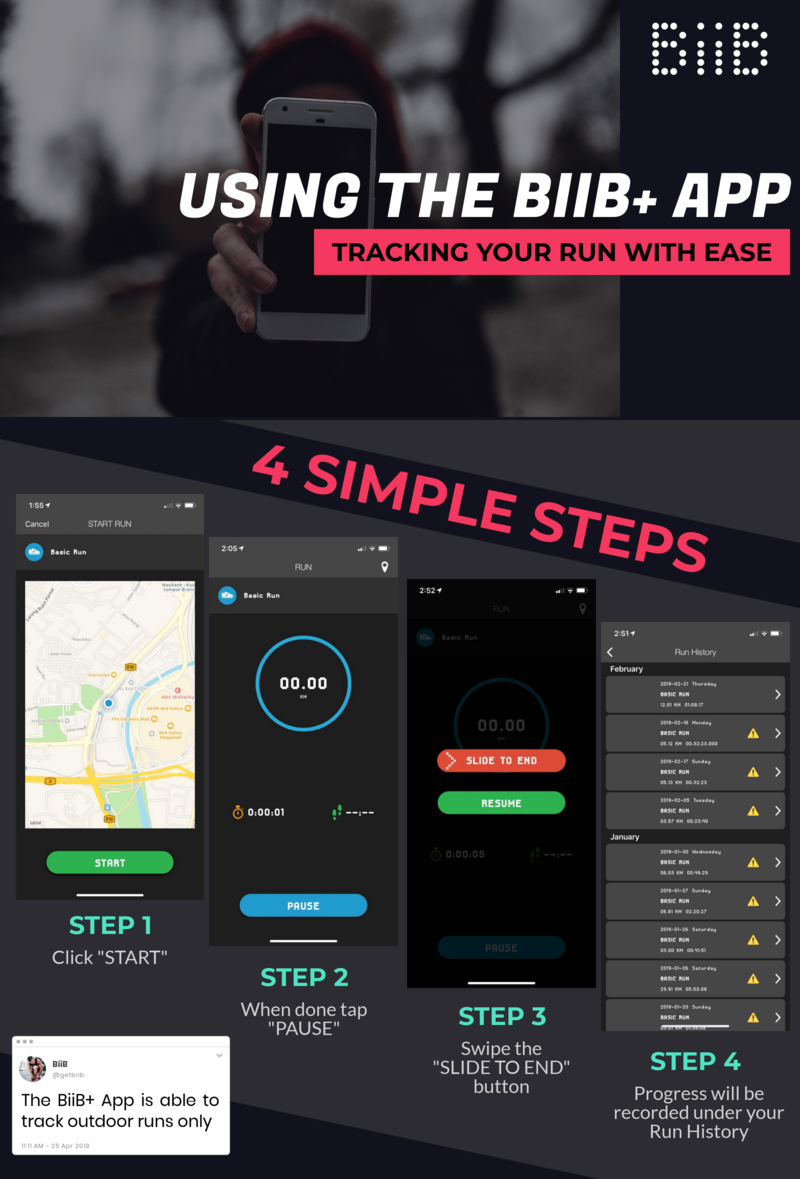 Q4 : How much of the registration fee is used for contributing to purchasing the PPE?
A4 : 50% of the registration fees goes to purchasing the PPE for medical staff at Hospital Kuala Lumpur.

Q5 : Can I use my mileage for another event for this challenge?
A5 : Absolutely, as long as those mileage are synced to our app

Q6 : When is the last day to submit the result? Do I need to submit the result daily?
A6: Result submission is required to be done within 24 hours of the activity and before 23:59 (GMT +8) at the end of the challenge
Q7 : Is it limited to indoor run/walk only?
A7 : Yes, with this MCO, we are doing our part to encourage people to stay at home as much as possible
*Note: BiiB+ app can only track outdoor run due to GPS limitations.

Q8 : Is walking counted?
A8 : Of course! The aim of this event is to motivate participants to stay active. It does not matter whether you're fast or slow.

Q9 : How does the system track the team mileage and how often is the system updated?
A9 : The system is built to add up all the mileage logged by the team member right after the success sync (LIVE). The mileage display will update as soon as someone in the team has finished a run/walk with successful sync or submission. You can view it either in BiiB+ App, under event (second tab from the left) or via personal running dashboard at getBiiB.com/me.

Q10 : Who is eligible to participate in this event?
A10 : This event is open to everyone in and out of Malaysia.

Q11 : How can I receive the reward?
A11 : Due to the MCO, you will be contacted to arrange the delivery of the reward.

Q12 : If I decide to not participate, can I get a refund?
A12 : Participation Fee is NOT refundable.

Q13 : Can I change my team after registration?
A13 : No. Changing of teams is not allowed.

Q14 : Why don't I receive any information from BiiB?
A14 : Please check your email or spam mail folder for our email after a successful registration. Announcements and updates will be informed through email.