A steps challenge for your company! Brought to you by Signature Market.
| Rank | Name | Members Count | # Successful Challenges | Equivalent Marathons Completed |
| --- | --- | --- | --- | --- |
Event Details
Join us in Malaysia's Largest Intercompany Marathon Challenge and show Malaysia what you and your colleagues can do. 💪
Represent your company and put your team's name on the leaderboard 🥇 Compete among those in your group or be at the top of the individual ranking.
Busy schedule? No worries! Track your steps throughout the day and make your daily commute to work count! 🔥 Get rewarded for being active 🏃‍♂️
Registration
Open now!


until

28 February 2023

(23:59)

-

EXTENDED TO 3 MARCH 2023

Challenge
20 February 2023

(00:00)




until

19 March 2023

(23:59)

All results must be submitted before the end of the challenge. No late submission is accepted.

Venue
DIGITAL *Please obey the latest COVID-19 guidelines and social distancing rules in your area.
Participation
Optional Add-ons available ONLY during registration and are event Entitlements (do not require finisher status).
Premium Event T-Shirt - RM29.90
*Actual product may vary due to product enhancement. Product colour may vary slightly due to photographic lighting sources or your monitor settings.
Physical Event Medal - RM19.90
Donation to Reef Check Malaysia 🪸
Reef Check Malaysia (RCM) is part of the worldwide Reef Check network. Since it was registered in 2007, RCM has become established as a leader in coral reef conservation in Malaysia and has field teams based on Tioman Island, Mantanani Island, Sabah, Redang Island and the Johor Islands. Its activities are organised around training survey divers and conducting coral reef surveys at over 200 locations around Malaysia to monitor coral reef health, working with stakeholders to improve the management of coral reefs in Malaysia to secure long-term conservation goals, conducting studies on reef resilience and rehabilitation to better understand coral reefs and impacts, and raising awareness of the importance of coral reefs and the valuable ecosystem services they provide.
Their social media platforms are as follows:
Donation options available:
RM5.00
RM10.00
RM25.00
RM50.00
RM100.00
Donation to Turtle Conservation Society 🐢
Turtle Conservation Society of Malaysia (TCS) was established in 2011 to protect and conserve freshwater turtles in the country. This is achieved through turtle research and conservation projects, educational programmes, public awareness campaigns and a community empowerment initiative.
Our flagship project—the community-based river terrapin research and conservation project—is our long-term commitment to save the critically endangered river terrapins from extinction. To date, we have saved more than 7,000 river terrapin eggs from human consumption, and released more than 4,000 head-started terrapins into the Kemaman River in Terengganu. Without this project, all these river terrapin eggs would have been consumed.
Their social media links:
Donation options available:
RM10.00
RM25.00
RM50.00
RM100.00
Rewards
Rules
R1: Participants are only allowed to sync active steps.
R2: No manual submission of steps will be accepted. All steps results must come in through third party apps which is Google Fit, Huawei Health or Apple Health (iOS).
R3: Participants to ensure that all activities are;
From an active steps activity only.
Synced before the event ends on Sunday, 19 March 2023 (23:59 GMT +8). Late sync shall not be accepted.
See full list of Rules in the 'Submission of results' section in the Terms and Conditions.
Frequently Asked Questions
For general and technical questions, please visit General & Technical FAQ
For event related FAQ, please refer below:
Q1 : When is the last time to sync my steps?
A1 : Steps syncing is required to be done before event ends on Sunday, 19 March 2023 (23:59 GMT +8).
Q2 : Who is eligible to participate in this event?
A2 : This event is open to anyone anywhere, however the event will follow the Malaysian timezone (GMT+8).
Note: Shipping and shipping fee is included only to Malaysian addresses.
Q3 : How should I name my Team? / Are there any guidelines for my Team Name?
A3 : Your team name should be / include your company name for ease of recognition and validation.
Q4 : Will my steps be collected before the event date count?
A4 : No, your steps will be collected from the date and time the event starts and after you have successfully registered.
Q5 : When will the items be shipped?
A5 : Please note that all items are customised and only ordered after the event ends and after the numbers have been confirmed in an effort to reduce waste. Shipping of event items will be done in batches starting around mid April 2023.
Q6 : What are the groups for?
A6 : The groups are to categorise teams based on their originating company size for the ranking only. Below is the description of the types of groups: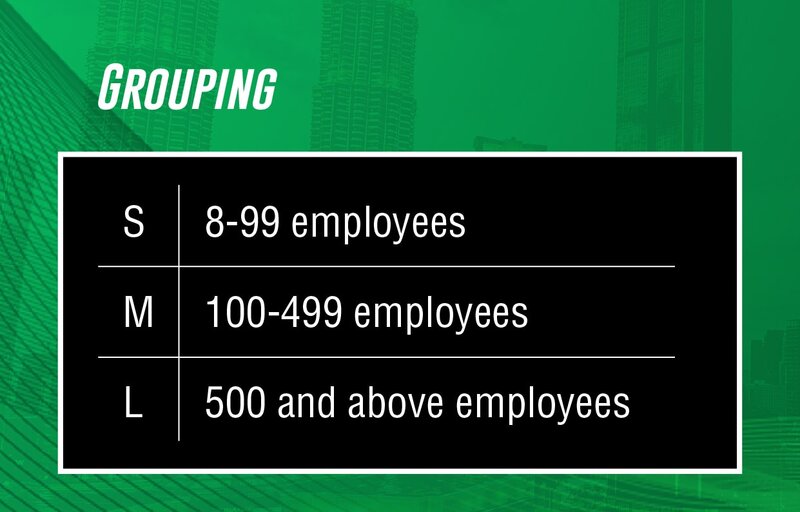 Q7 : What do I do if I entered the wrong information during registration?
A7 : Please email us at [email protected] with the changes you want to make. We will get back to you as soon as possible within 3 working days, our business hours are Monday to Friday, 10am to 5pm (excluding Public Holidays).