RUN STREAK challenge for you and your team to start your 2021!
Event Details
#TeamRunStreak is BACK!

A challenge that will motivate you to start your New Year 2021 in the perfect way!
#TeamRunStreak 2020 was such a hit, we have made the challenge even better this year! How?
Now you can start your streak any time and revive if you missed a day or restart your streak any time in another team! No more increasing of 1KM every day after 31 days too 😉
If you register in 2021, your streak will begin from the next day your team succesfully registers.
Psst! If one member fails to continue their streak, the team's streak will fail and no longer continue, but the other members can keep going to see who is the last man standing!
Now there is no excuse. Do your 2KM everyday and see how long you can last!
UPDATE:

Thank you for participating in #Teamrunstreak 🙏
With the Enhanced Movement Control Order/Perintah Kawalan Pergerakan Diperketatkan announced by the Malaysian government and the rising cases in Malaysia, we have made a tough but necessary decision for the safety of all runners in this challenge.
The #Teamrunstreak event shall oficially end 9th July 2021 (23:59).
Runners do not need to run 3rd July 2021 onwards
10th July onwards, the challenges will be removed and the ranking will no longer change
Timeline

Registration
Running
Last day of running: 2nd July 2021 (23:59)

Venue
DIGITAL *Please obey the Movement Control Order (MCO/PKP) and social distancing
---
---
Fees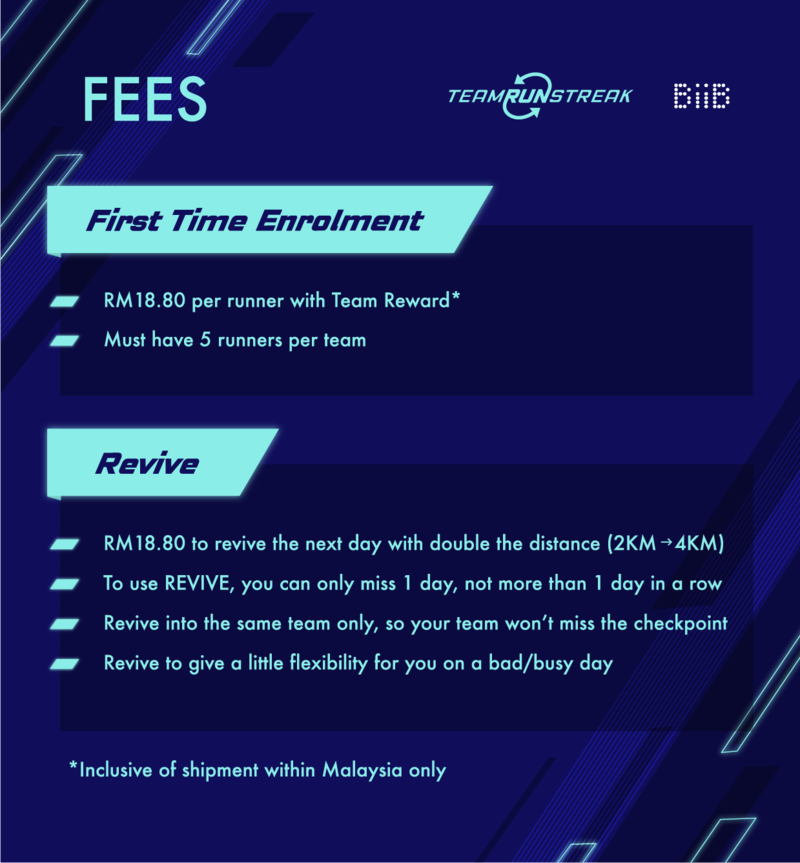 ---
Rules
Only distance tracking activities (walk, run, hike) will be accepted, steps tracking results and other activity results will NOT be accepted.

All runs must be synced/submitted everyday before 23:59:59 GMT+8 to qualify
Follow the Conditional Movement Control Order (CMCO/PKPP) if you are in Malaysia

Runners are responsible to make sure the distance ran is tracked and synced (INDOOR TRACKING MODE IS RECOMMENDED FOR INDOOR USAGE), and must ensure that the results submitted are genuine and well tracked with the following mandatory information:

Distance
Duration
Pace
Date/Time
Running Route (outdoor only)
* * Steps tracking and other activity results will NOT be accepted. The measurement unit is in actual distance (KM), therefore the step tracking estimated distance is not acceptable


The system will not take overlapping activity into consideration

You're not allowed to make changes to any synced/submitted activity to allow the result verification system to perform the result validity screening process. If the result wasn't tracked properly or showing unrealistic results, kindly delete the activity within 24 hours too.

Participants are required to submit active tracked activities as a result for the event.*
*Step count activity that is tracked over the entire day is not considered an active event and is not acceptable.

Participant(s) will automatically get disqualified (DQ) if one of the following is identified/occurs:

Unrealistic/faulty results (evidence & data will be collected)
No sharing/tag along of activities are allowed
Failure to respond to the result enforcement officer within 24 hours to provide supporting information to justify the result such as split timing or official race result, etc.
Recommended FREE Android/iOS App With Indoor Run Tracking
COROS APP

✓

Auto-sync to BiiB
MAPMYRUN

✓

Auto-sync to BiiB
GARMIN

✓

Auto-sync to BiiB
NIKE RUN CLUB

✓

Manual Submission Required
PUMATRAC

✓

Manual Submission Required
SPORTS TRACKER

✓

Manual Submission Required
ENDOMONDO

✓

Manual Submission Required

---
Frequently Asked Questions
Q1 : What is the reason my BiiB+ app is not tracking my run properly?
A1 : GPS signal might also get affected by the environment when there are tall buildings/mountains or roofed area blocking the signal. It happens to some Android devices' battery optimization process and could be fixed by following these simple steps;
*Note: BiiB App can only track outdoor activities due to GPS limitations
Q2 : Can I use a third-party app instead?
A2 : Yes you can. You can link up BiiB with third-party apps from getbiib.com/me or through the app by following these simple steps:
Q3 : How do I make a manual submission?
A3 : You can do it through the app or on the website after logging into your account, you can follow these simple steps:

Q4 : How to check my progress for the event?
A4 : You can check it on the event page for ranking or by the app by following these simple steps:
Q5 : Why does my GPS signal is displayed as weak on the BiiB app?
A5 : GPS signal reception may be weak if you run between high rise buildings or in areas that have lots of tall buildings, it's best to run in an open clear area.
Q6 : Do I need to submit the result daily?
A6 : YES. Run streak requires each runner to submit their running result everyday before 23:59:59 GMT+8 to qualify.
Q7 : Can I collect my mileage on treadmill?
A7 : Yes, you can. A manual submission is required. Follow the instruction in A3 for submission.
Q8 : Is it limited to outdoor runs only?
A8 : No. You can run either outdoor (must be GPS tracked) or indoor using treadmill. Step counter results are not accepted.
Note: BiiB+ app can only track outdoor run due to gps limitations.
Q9 : Is walking counted?
A9 : Of course! The aim of this challenge is to motivate participants to stay active. It doesn't matter whether you're fast or slow. However, using a step counted activity for the duration of the day is not acceptabe. Participants would need to make sure that it is an active running/walking activity.
Q10 : If my team only registers in 2021 after the first day of running, when do I have to start?
A10 : You will need to start running and your streak will start on the day after your team successfully registers
Q11 : If I join after the event has started, will my mileage collected before the participation date count?
A11 : NO, only mileage from the day you successfully register will be counted.
Q12 : How does the system track the team mileage and how often is the system updated?
A12 : The system is built to add up all the mileage logged by the team members right after the success sync (LIVE). The mileage display will update as soon as someone in the team has finished a run/walk with successful sync or submission. You can view it either in BiiB+ App, under event (second tab from the left), or via personal running dashboard at getBiiB.com/me.
Q13 : Who is eligible to participate in this event?
A13 : This event is open to everyone, inside or outside Malaysia. Please contact us at [email protected] to arrange for international shipping.
Note: We will not send out your reward if you do not pay the additional international shipping
Q14 : Can I run outside of Malaysia?
A14 : Yes, you can. However, the start and end time will be based on Malaysia timezone.
Q15 : If I decide to not run, can I get a refund?
A15 : No. The fee is NOT refundable under any circumstance.
Q16 : Can I still get the reward if I did not finish the challenge?
A16 : No. Only those who finish the challenge will get the reward
Q17 : What if I missed the delivery and exceeded the grace period?
A17 : The reward will be sent back to us. You can contact us to arrange for a second shipment (additional charges will apply).
*Note: We will only process your returned items for a one month period from the date it has been returned.
Q18 : Can I change my team after registration?
A18 : No, changing of teams is not allowed. You may change teams when you re-register and restart your streak again.
Q19 : What do I do if I entered the wrong information during registration?
A19 : Please email us at [email protected] with the changes you want to make
*Note: We will use the details in your registration for communications and rewards, please make sure it is correct. We will not be responsible for the wrong information in your registration when shipping the rewards.
Q20 : Why did I not receive any welcome email from BiiB?
Q20 : Please check your email or spam mail folder for our email after a successful registration. Announcements and updates will be informed through email.
---
Contact Us
For any inquiries, technical issues with registration, and general technical issues please contact [email protected]
We will get back to you as soon as possible within 3 working days, our business hours are Monday to Friday, 10am to 5pm
---