Organised by: Kelab Sofbal UniMAP LIONS
| Rank | Name | Total Distance (KM) |
| --- | --- | --- |
Event Details
Objective:
Improving a healthy quality of life through sports after the country experienced the covid 19 pandemic.
Strengthen the relationship between the faculty/college involving students, employees and the public.
Foster interest and team spirit for their respective faculties.
Improving a fit body and an intelligent mind in the individual.
Registration
EARLY BIRD: NOW

until 30 September 2023

(23:59)



NORMAL: 1 October 2023

(00:00)

until 29 October

(23:59)



Challenge
30 October 2023

(00:00)




until

28 November 2023

(23:59)

All results must be submitted before the end of the challenge. No late submission is accepted.

Venue
Participation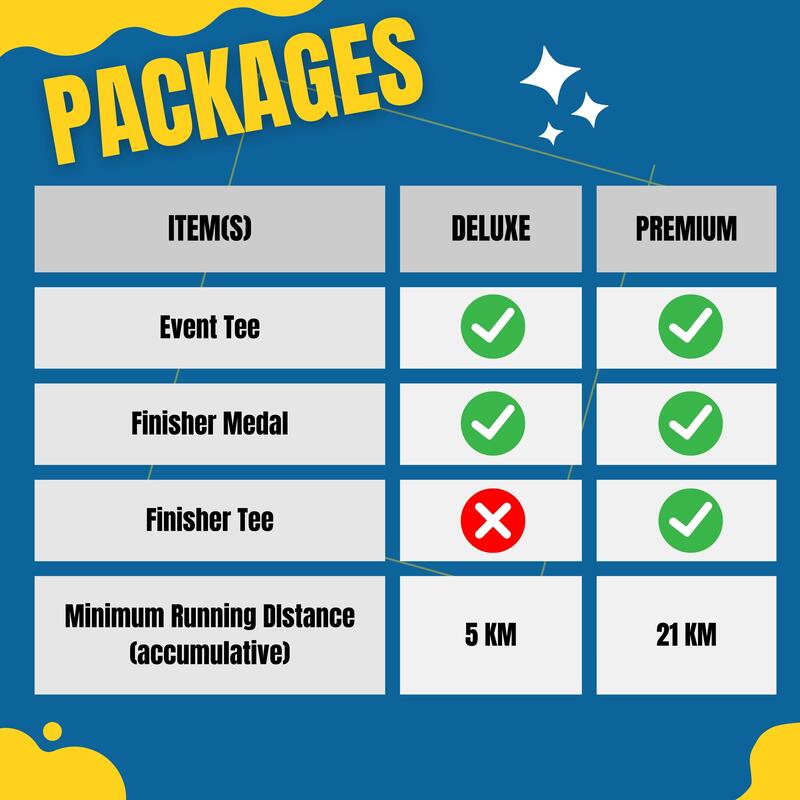 Rules
R1: Participants are allowed to;
Sync/submit distance-based tracked activities only. Step Count activity will NOT be accepted. Find out more on how to sync/submit by clicking the General & Technical FAQ below.
Complete the distance within one activity or an accumulation of activities.

R2: Participants to ensure that all activities are;
From an active running/walking activity. Tracking your steps/walk over the whole day is not an active activity. (Shopping and tracking are not allowed too).
Synced/submitted within 72 hours after each activity is completed and before the event ends Tuesday, 11 July 2023. Late submissions will not be accepted.
Submitted with the necessary information; Start date and time, duration, distance and route* (*for outdoor activity only).
See full list of Rules in the 'Submission of results' section in the Terms and Conditions.
Frequently Asked Questions
For general and technical questions, please visit General & Technical FAQ
For event related FAQ, please refer below:
Q1 : When is the last time to submit my results?
A1 : Result submission is required to be done before event ends Tuesday, 28 November 2023.
Q2 : Who is eligible to participate in this event?
A2 : This event is open to anyone anywhere.
Q3 : Will my mileage be collected before the event date count?
A3 : No, your mileage will be collected from the date and time the event starts and after you have successfully registered.
Q4 : When will I receive my rewards/entitlements?
A4 : All event entitlements and rewards will be handled by Northern Runners. An estimated date will be provided at a later date by the event organiser
Q4 : What do I do if I entered the wrong information during registration?
A4 : Please email us at [email protected] with the changes you want to make. We will get back to you as soon as possible within 3 working days, our business hours are Monday to Friday, 10am to 5pm (excluding Public Holidays).
Terms & Conditions
You can find the general terms and conditions of the event and the rewards here: Terms and Conditions