Challenge yourself to run with Olympians!
Event Details
In conjunction with the annual Olympic Day celebration on 23 June, the Malaysia Olympians Association (MOA) and Malaysian Olympism in Action Society (MOiAS) is organizing the #RUNwithOLYMPIANS #RUNforOLYMPISM Virtual Run.
To celebrate the 127th year of the establishment of the International Olympic Committee by the founder of the Modern Olympics, Baron Pierre de Coubertin, we are encouraging fellow Malaysians and friends to form teams and run an accumulative total of a minimum of 127 kilometers to support our Malaysian athletes at the Tokyo 2020 Olympic and Paralympic Games and to promote a healthy lifestyle!
---
Timeline and Fees
Registration
1 May 2021

(00:00)




until

7 June 2021

(23:59)
Running
1 June 2021

(00:00)




until

22 June 2021

(23:59)
Venue
DIGITAL *Please obey the Current movement conditional order in your area and social distancing rules
Fees
Team - 127 KM
RM50.00 per person (before SST 6%)
This fee includes a #RUNwithOLYMPIANS #RUNforOLYMPISM dryfit t-shirt, and button badge.
RM5.00 will be donated to Epic Homes, an organization that aims to build relationships between the urban and rural divide through the act of building homes for underprivileged communities, currently focusing on the indigenous people of Peninsular Malaysia, the Orang Asli.
---
Charity and Contribution
Epic Homes believes that the presence of relationships is what truly differentiates a 'Home' from a 'House'.
When an Epic Home is built, a family does not just get a new house, but they also become connected to a larger community who genuinely cares for them; a community that seeks to understand their challenges, and who seeks to solve it together with them.
12,000 families are currently living in unsafe housing conditions. Over 77% are classified as poor.
Epic Homes mobilises volunteers to homes with families in need so that relationships between families and builders can be formed, a support system that can address key areas of intervention can be developed, the power of choice, restoration of dignity and self-belief can be facilitated and ultimately… individuals and families believe in their own talent and capacity to make a difference within their own lives, and the lives of others… becoming an epic person.
We aim to reach a total collection of RM50,000.00, the amount that is needed to build a house! Help us reach this goal! To make additional contributions, click the button below:
For more information about Epic Homes, contact info@epichome.org.
---
Merchandise
Every registration includes a #RUNwithOLYMPIANS #RUNforOLYMPISM t-shirt.
Size Chart
---
E-certificate
All teams that complete an accumulative total of a minimum of 127 kilometers will receive an E-certificate of Completion.
---
Lucky Draw
All teams that complete an accumulative total of a minimum of 127 kilometers will be eligible for the Lucky Draw that will be held on Olympic Day, 23 June. There will be attractive prizes to be won!

---
Format and Rules
The #RUNwithOLYMPIANS #RUNforOLYMPISM Virtual Run is a team event that encourages teamwork and fosters comradeship.
A group of Olympians will be joining in the virtual run and they will each be placed in a team. If you wish to team up with an Olympian, pick a team starting with the name "Olympian". We will reveal the mystery Olympian in each team on June 1!
Please refer to the Terms & Conditions document for the full list of rules and regulations.
---
Frequently Asked Questions
Q1 : Can I use a third-party app instead?
A1 : Yes you can. You can link up BiiB with other third-party apps from getbiib.com/me by following these simple steps: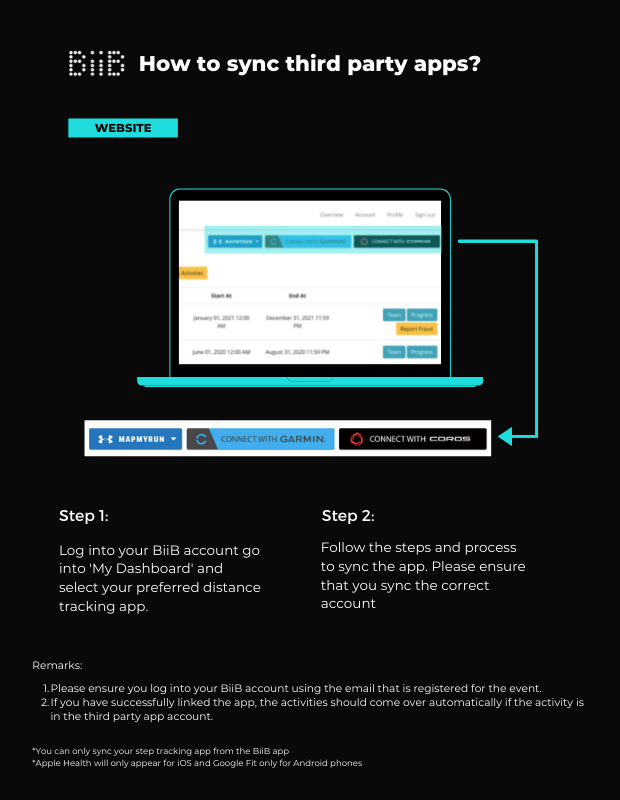 Q2 : How do I make a manual submission?
A2 : You can do it through the website after logging into your account, you can follow these simple steps:
Q3 : When is the last day to submit the result? Do I need to submit the result daily?
A3 : Result submission is required to be done within 72 hours after the end of the activity and before the event ends 23:59 (GMT +8).
Q4 : Is it limited to outdoor runs only?
A4 : No, indoor treadmill results are also acceptable. You may submit a photo of your treadmill dashboard and make a manual submission.
Note: BiiB+ app can only track outdoor runs due to GPS limitations.
Q5 : Is steps activity allowed?
A5 : No, steps tracked activities are not allowed as the KM is an estimate number.
Q6 : Can I join more than one team in this event?
A6 : No, only one BiiB account is allowed to join the team/event.
Q7 : What does it mean 'System will not take overlapping activity into consideration'?
A7 : The system will not accept two activities for the same time, there can only be one activity for one specific period of time.
Eg: If you submit an activity for 10am till 11am, then your second submission states that the activity is from 10.30am to 11.30am, that is considered overlapping because you are supposed to be running from 10 - 11am and that is already one activity.
Q8 : What are sharing or tag-along activities?
A8 : This is when a submitted activity are used and shared between more than one participant.
Eg: You and your friend run together but only one person tracks the activity, only one person can submit the activity for the event. If both participants submit the same activity, both submissions will be rejected by the system.
Q9 : How does the system track the mileage and how often is the system updated?
A9 : The system is built to add up all the mileage logged by the participant right after the success sync (LIVE). The mileage display will update as soon as you have finished a run/walk with successful sync or submission.
Q10 : How does syncing third party app works?
A10 : Your activity must be synced and is in the third party app system for it to be sent to us. If there is no activity in your third party app system, we will not receive any activity from that third party app.
Q11 : Who is eligible to participate in this event?
A11 : This event is open to anyone inside and outside of Malaysia but rewards will only be shipped to Malaysia address.
Note: International participants must put a Malaysian address. Please contact us at hello@getbiib.com if you are facing any issues regarding the rewards shipping address.
Q12 : How will I be qualified to get the e-certificate?
A12 : Teams must complete the team mileage to qualify to be a finisher and receive the E-cert.
Q13 : When will I receive the merchandise?
A13 : Merchandise shipping will commence 10 June 2021 onwards (Delay may occur due to the COVID-19 situation).
Note: We will only process returned parcels and proceed with second shipping within 30 days from the date it was returned and upon payment made.
Q14 : If I decided not to run, can I get a refund?
A14 : No refund is allowed as stated in the T&C.
Q15 : Will my mileage collected before the participation date count?
A15 : No, your mileage will be collected from the date and time the event begins and after you have successfully registered.
Q15 : Why haven't my merchandise arrived?
A15 : An email with tracking number from the delivery service or from us will be sent to your registered email. Participants are responsible to track their own parcel.
Q16 : What do I do if I enter the wrong information during registration?
A16 : Please email us at hello@getbiib.com with the changes you want to make.
Q17 : Why didn't I receive any information from BiiB?
A17 : Please check your email or spam mail folder for our email after a successful registration.
Q18 : How will BiiB communicate with me?
A18 : We will use the details in your registration for communications and rewards. Please ensure all information provided is correct.
---
Contact Us
For any inquiries about the event, rewards, and purchases, please contact the event organiser, Malaysia Olympian Association at malaysia@olympians.org or Malaysian Olympism in Action Society at myolympism@gmail.com.
For any inquiries and technical issues please contact us at: hello@getbiib.com.
We will get back to you as soon as possible within 3 working days, our business hours are Monday to Friday, 10am to 5pm (except Public Holidays)
---
Terms and Conditions
You can find the terms and conditions of the event and the rewards here: Terms and Conditions